Recruiting and Career choice made simple
TranZition™ Group is an executive recruitment and partnership firm passionate about the growth of companies and individuals. Led by Executive Recruitment Specialist and Principal Trevor Neville, and Business Partner and Life Coach Denise Neville, the company was founded in 1993.
Successful transition requires the right match
As much focused on a candidate's transition as we are on the development of the businesses we work with, we've dedicated over 30 years to sourcing the right talent to help companies evolve. And we count ourselves as experts in the healthcare, biotechnology and science sectors.
Next to executive recruitment, we offer partnering for business solutions, and professional development coaching.
Experienced, reliable and committed
When it comes to supporting your personal or company transition, we leverage our insights and a tried and trusted approach.
It starts with really getting to know you as a candidate or company. We aim to understand your vision, pain-points and goals, and pride ourselves on finding the most suitable position or talent to take you to the next level.
For recruitment –

that means looking beyond candidates' experience, and also at their attitude and personality – if they are truly to be the right fit.
For companies we partner with – it means looking at the big picture. Depending on your business needs, the solution might lie in goal and vision mapping, developing a robust recruitment process or overhauling role descriptions and selection criteria to capture what a successful employee is to you. It might be overseeing placement or designing a new evaluation framework to ensure staff performance and development adds up. There are a number of ways we can help. 
We believe in life-long growth, and the value of a true partnership.
So, more than satisfying a standard tick-and-flick list of recruitment needs, we're committed to building an ongoing relationship with you. That way, you know you've got a trusted, experienced recruiter or business partner to call on when you need.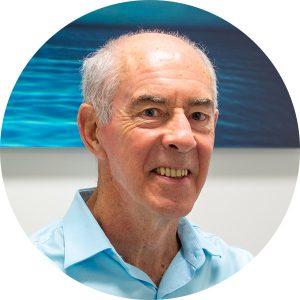 Trevor's career in the healthcare and biotechnology sectors spans more than 30 years, including roles in the laboratory, to sales and marketing, and the operation and general management of multinationals, Australian and self-owned companies.
Trevor has developed an expertise in the areas of diagnostics, medical devices, nutritional supplements and medical consumables, alongside managerial and interpersonal skills. The latter, combined with a robust industry network, led him to recruitment, where he has successfully sought and secured executive and management talent in the healthcare and biotechnology space for over 16 years and counting. He also enjoys offering ongoing mentorship to some candidates throughout their careers.
Trevor's goal is to find the right solution for business or candidate. He's a firm believer in building relationships with clients and candidates, and strives to take a personal, not transactional, approach to recruitment, consulting and partnering.
Denise is a certified Life Coach and Financial Mindset Coach with over 35 years experience across the corporate, NFP, government and entrepreneurship sectors.
Denise is trained in Cognitive Behavioural Therapy, Neuro-Linguistic Programming, Counselling and Emotional Freedom Technique, and is particularly passionate about helping people to break through negative money thoughts and transitions. Be it from one career step to another, or one way of thinking to another more effective, positive way that opens up new doors to success.
Much of her work has focused on womens' growth and wellbeing – helping women understand their fears and negative thought patterns, and understanding themselves – an element Denise sees as vital to any of her training.
As a course facilitator, Denise draws on her personal, industry and theoretical experience, while leveraging coaching techniques and a personable communication style. Her client feedback reflects her "innate ability to deal effectively and efficiently with identifying and focusing on her clients' needs" and commitment to working in partnership with each client – to ensure strategy and solutions are designed to meet their desired outcomes.
Denise is also the Co-Author of Creating your life: Mindfulness and Meditation.
Tell us what you need, and we'll get back to you within 2 working days.